Posted Friday, December 14, 2012
In these modern health and environment-conscious times, we carnivores have a lot to feel guilty about. Our insatiable lust for artery-clogging red meat seems to reflect base, Cro-Magnon roots traced back to a time when fire was power and cooked flesh was equal parts char and juicy deliciousness. Mad Mike's Burgers & Fries, a burger joint and fledgling local chain, proudly caters to our seductive, reproachable habit.
Mad Mike's takes its cue from places like 5 Guys Burgers and Fries and Smashburger, slapping the face of those who would denounce our American "super-sized" culture. They're out to prove that, every now and again, people want to shove a half pound of meat and french fries down the gullet, happily abusing their belly with that sweet, sudden rush of 1500 calories.
Housed in an adobe-styled building that looks like it was perhaps once an old Taco Bell, Mad Mike's premier location in Florence offers just enough seating to accommodate a moderate lunch rush. There are three locations altogether, the latest of which opening recently in Newport, operating out of the former Graeter's across from Newport on the Levee.
Most 5 Guys fans will find a familiar menu in Mike's, as both offer large, 2-patty 1/2-pound burgers, quarter-pound "junior" burgers, hot dogs, unlimited burger toppings and, of course, heaping mounds of fresh-cut french fries.
But there's something unique about Mad Mike's meat preparation that makes it better than the big chains: its 100%, Black Angus burgers have a nice, crusty char and a more satisfying, meatier flavor than 5 Guys. The patties rest on fluffy, dusted brioche buns with a split in the middle that begs for a photo op. A frequent haunt for our work crew, Mad Mike's easily wins the prize as one of the best affordable burger options in town.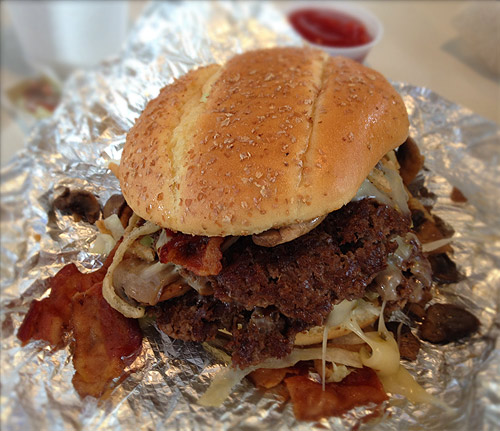 Eleven signature burgers headline the menu. Both the "Outlaw" and the cheesier "American Outlaw" are the most recognizable as standard burger fare with lettuce, tomato pickle, grilled onions, and the mayo-riffic "Mad Sauce." Workmates particularly enjoy the "Big Tex," topped with deep-fried bacon, BBQ sauce, onion rings, lettuce and tomato. My personal favorite is the "Shroomin'," which is piled high with grilled mushrooms, bacon, lettuce, Mad Sauce and wispy fried onion rings over molten pepper jack cheese.
Like 5 Guys, Mad Mike's offers orders of fries whose volume surpasses all measure of ridiculousness. On our first visit, we made the mistake of getting the large fry, a huge paper cup overflowing with starchy shards of potato and at least another small cup of fries remaining in an accompanying paper bag. Even the small fry was plenty for feeding two people. Since the ample burger's leaden weight makes it adequate sustenance for an entire day, I stopped ordering fries in subsequent visits, with room later only for a light dinner snack.
Mad Mike's continues to be one of our top burger picks in the city. It's easily in my top five, brushing up against heavy hitters like Gas Light Cafe, Terry's Turf Club, Herb & Thelma's and City View Tavern.